Desert Spring DS3200 Furnace Humidifier
The Desert Spring DS3200 furnace humidifier is simply the best whole house central humidifier on the market today!

The Desert Spring furnace humidifier is the only furnace humidifier that uses unique rotary disc technology. Its patented design makes it 100% water efficient, extremely energy efficient, and low maintenance.
Unlike its competitors, the Desert Spring furnace humidifier does not use a sponge or hard-to-clean metal screen that can quickly encrust with minerals thereby reducing humidity output. Moreover, it does not require a constant flow of water (most of which just goes down the drain) like popular flow-through models. No more wasted water or clogged sponges to replace - the patented disc assembly can simply and quickly cleaned and re-used season after season for the life of the system!
The rotary disc technology also inhibits bacteria and mold growth by preventing water stagnation common in competitor's designs. This makes the Desert Spring ideal for allergy sufferers and others who are sensitive to air quality problems.
We are so confident that you will find the Desert Spring Furnace Humidifier to be the best furnace humidifier you have ever used that, if you are not completely satisfied with your purchase, you can return it within 30 days for a full refund!

TOLL FREE CUSTOMER SERVICE
1-866-376-2690
Monday to Friday
8:30am to 5:00pm (Pacific Time)
11:30am to 8:00pm (Eastern Time)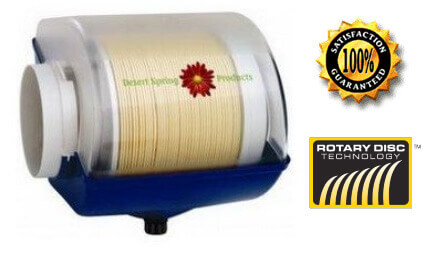 no messy crusted sponges to replace!
does not waste water like flow-thru models
no sponges or pads to become fouled & contaminated
very low maintenance
performance not affected by hard water problems
high humidity output - covers up to 3,200 sq ft!
Save even more on our Desert Spring furnace humidifier value accessory packages!
Desert Spring Humidifier Value Packages
We sell more Desert Spring furnace humidifiers than just about anyone including the big box stores. We will not be undersold and our warehouse is always stocked. Our customers not only benefit from our volume purchases and warehouse-direct, low-overhead structure, but you can also expect to receive the highest level of customer service. Nobody knows Desert Spring and home humidification as well as us! If you find a lower price advertised anywhere, we will beat it! Simply call us toll free at 1-866-376-2690 to order. Please see our policies page for more details.