In-line anti-scale humidifier filter
with Premium Polyphosphate Lime / Scale Inhibitor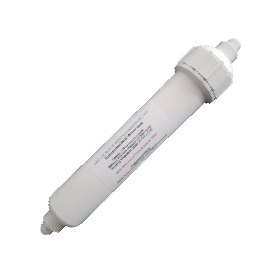 This filter employs the scale inhibiting properties of polyphosphate to create a low-maintenance furnace humidifier by reducing mineral scale. This filter will enhance the efficiency and cleanliness of all home furnace humidification systems by coating hard water minerals so they cannot interact with each other to form hard scale and stick to humidifier parts, thereby making them easier to clean. The filter installs in just a few minutes, does not require any maintenance under normal use, and will generally last an entire humidification season (6-9 months) depending on the level of contaminants in your source water. It is especially effective when used with the Desert Spring AutoFlush system which purges the sequestered minerals down the drain.
This product is recommended for homes that cannot install the AutoFlush due to lack of a floor drain or poor floor drain location, and for homes with severe mineral build-up due to hard water problems.
Specifications:
Filter Media: Polyphosphate
Capacity: 1,250 gallons or approximately 6-9 months
Recommended Maximum Flow Rate: 0.75 gallons per minute (GPM)
Maximum Water Pressure: 90 psi
Operating Temperature Range: 35-100F or 2-38C
Minimum Reduction: 95%

This filter can be used with virtually all furnace humidifiers with a standard 1/4 inch outside diameter (OD) water supply line!
Installation Instructions for In-Line Anti-Scale Humidifier Filter (on Desert Spring Furnace Humidifier):
1. Turn off the water supply to your humidifier.
2. Select a location on your incoming water supply line that is conveniently located, allowing adequate access for scheduled filter replacements. Cut the water supply tube with a pair of wire cutters, tin snips, heavy scissors, or other similar tool that will provide a clean cut. Make sure there are no burrs on the ends of the cut tubing. Use sandpaper if necessary to de-burr the ends of the tubes.
3. Take note of the arrow on the filter which indicates the preferred direction of water flow through the filter. The narrower end of the filter should be closest to the humidifier. Insert the water line tubing into the each end of the filter unit. Push it in as far as it will go (do not use excessive force). This will form a waterproof seal. This filter uses a quick connect system - there are no nuts, screws or bolts to tighten!
4. Disconnect the water supply line from the float assembly on the humidifier. Get a bucket. Turn on the water supply to the humidifier and run water through the filter into the bucket. The initial flow of water may be slightly discolored - this is normal. Run the water for several minutes until in runs completely clear (3-5 minutes recommended). This will prime your filter for optimal performance. Turn the water supply off again and reconnect the water supply line to the humidifier float assembly.
5. Turn your water supply on and inspect all connections and fittings for leaks. Check your humidifier periodically for the first several days to ensure that no leaks develop due to poor connections.
Purchasing Replacement Filters:
Your humidifier water filter should be replaced every heating season (normally in the fall) or as reduced performance is noticed. To purchase a replacement filter, please visit our website at www.highqproducts.com or call us toll free at 1-866-376-2690.
Note: We do not recommend the use of this filter with water that is not microbiologically safe, or water of unknown quality without adequate pre-treatment. The contaminants specifically removed or reduced by this filter may not necessarily be present in your water supply. Install in accordance with all federal, state, provincial, and local laws. Do not allow filter to freeze or it may crack and leak.