Digital Hygrometer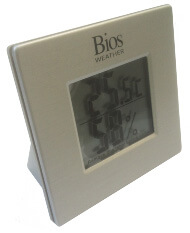 Out of Stock
A hygrometer is a device that measures the relative humidity (RH) level which is expressed as a percentage (%). The use of a hygrometer can assist you in maintaining optimal humidity levels in your home. A relative humidity level of 35% to 50% is normally recommended for home air.
Our deluxe hygrometer features a wider humidity measurement range than most other brands, as well as a sleek look and design that fits in most room decors!
Deluxe Indoor Digital Thermometer / Hygrometer
This unit displays current indoor temperature (Fahrenheit and Celsius)and humidity measurements, as well as minimum and maximum temperature and humidity readings. It can be used as a hand-held device or it can sit on a countertop, desk, shelf, mantle, etc. It features large, easy-to-read LCD displays and includes a built-in tabletop stand.